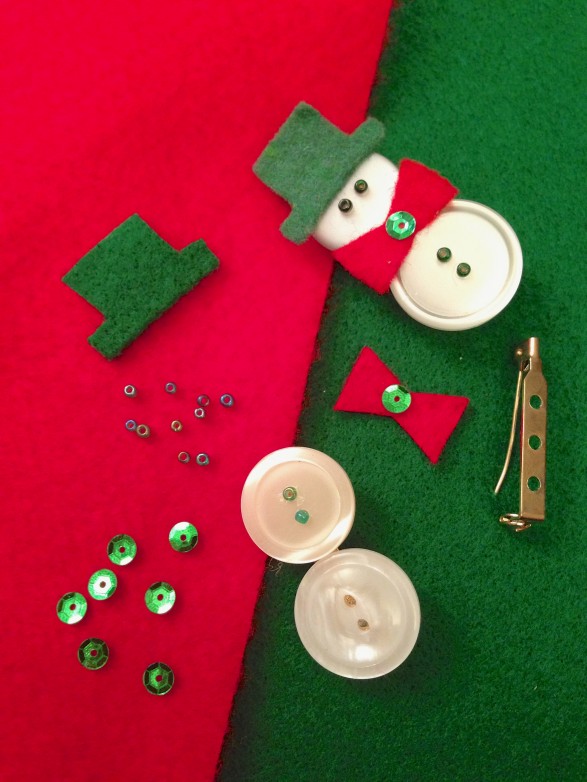 izy peasy button snowman:)
Τhis is a simple Xmas pin for everyone...you need only buttons,beads,sequins,glue,some green and red felt and a pin back...izy peasy!:)
With the pin of the pin back pointed down, glue (hot glue works here also) one large button at the bottom and the smaller button directly above the larger one.
While glue dries, cut out a small top hat from the green felt. Cut also a small bow tie from the red felt.
Carefully glue the hat to the top of the small button and the bow tie between the two buttons. Glue a small green bead over each hole in the buttons, forming eyes and "coal" buttons. A toothpick may be helpful in placing a dab of glue over the small holes. Glue one green sequin to the center of the bow tie.
Allow to dry thoroughly before using....
Μια εύκολη χριστουγεννιάτικη καρφίτσα που μπορείτε να φτιάξετε με μικρό κόστος και να την δωρήσετε σε φίλους αντί ακριβού και άχρηστου δώρου:)...θα χρειαστείτε κουμπιά-2 απλά λευκά ή εκρού κουμπιά ένα μικρότερο και ένα μεγαλύτερο...τσόχα κόκκινη και πράσινη-πουλάνε σε όλα τα βιβλιοπωλεία είναι σε συσκευασία με διάφορα χρώματα και θα σας κρατήσει πολύ...θα χρειαστείτε ελάχιστη βασικά για το καπέλο και το φιογκάκι...μια καρφίτσα-το πίσω μέρος...αγόρασα χτες σακκουλάκι με 6 καρφίτσες-1.40 ευρώ:) επίσης οι πούλιες και οι μικρές χαντρούλες είναι φτηνές και θα σας μείνουν για πολλές χειροτεχνίες...!Μπορείτε όμως να σκεφτείτε εναλλακτικές για τα συγκεκριμένα υλικά και να την διακοσμήσετε όπως εσείς θέλετε...!!
Ενώστε τα δυο κουμπιά και κολλήστε τα με το πίσω μέρος της καρφίτσας...βάλτε δυνατή κόλλα ή χρησιμοποιήστε το πιστόλι κόλλας...μετά κόψτε την τσόχα και φτιάξτε το καπελάκι και το φιογκάκι του χιονάνθρωπου...κολλήστε τα και αυτά...θα βάλετε τις μικρές χάντρες για ματάκια και για κουμπάκια...με μία οδοντογλυφίδα βάλτε κόλλα μέσα στις τρυπούλες των κουμπιών και τοποθετήστε επάνω τις χαντρούλες...κολλήστε και μια πράσινη πούλια στο φιογκάκι και είναι έτοιμο...izy peasy!:) Θα δείξει τέλεια πάνω σε μάλλινα πλεκτά, παλτό αλλά και γιατι όχι στο πλάι ενός καπέλου ή σκούφου...?
source:http://fountainavenuekitchen.com/holiday-crafts/